Look what they're saying about



for Windows

Don't take our word for it. The press and users alike sing the praises of HTML PowerTools. We bet that you will too!



4 Stars:
"HTML PowerTools is a nice-looking collection of easy-to-use, time-saving Web authoring helpers."
--ZD Net Software Library review, September 1999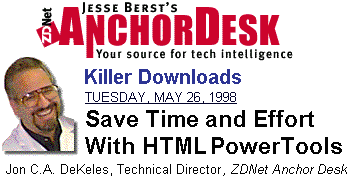 "Killer Download: Save Time and Effort with HTML PowerTools"
--Jesse Berst's ZDNet AnchorDesk, May 26, 1998


"The best of the bunch is HTML PowerTools"
PC Computing Magazine, May 1998 issue



Included in PC Computing
1001 Best Downloads,
March 20, 1997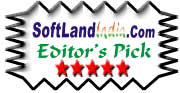 Selected Softland Editor's Pick, December 27, 2000



"This is the best pack of tools I have ever seen... This is a must have for all HTML'ers including people who use WYSIWYG editors."
Awarded HTML Center Choice Award, August 1998




Awarded five stars by 5-Star Shareware, July, 1998




"This is an excellent suite of 8 essential tools for web authors"
--Allen's WinAppsList, June, 1998




4 Stars: "a well-done suite of HTML development programs"
--ZD Net Software Library review, May 1998



"HTML PowerAnalyzer is a smart choice."
--PC Magazine Online, March 6, 1997



"...check out the HTML Meta Manager. This [is a] valuable Windows-based utility..."
--PC Week Online, January 13, 1997



"HTML PowerAnalyzer is an excellent tool for HTML authors."
--ZD Net Software Library review, September 1996



Awarded Cool Tool of the Day, March 10, 1997



Selected Clicked.com Top 20, March 20, 1997
"After months of careful review, testing and consideration, the staff at Clicked.com Shareware Gallery have chosen HTML PowerTools as a Top 20 product. This is quite an elite status, considering the thousands upon thousands of products out there. Hands down, we found HTML PowerTools to excel in its performance, functionality, and usability."


"HTML PowerTools are a fantastic set of programs for the HTML developer -- highly recommended. We've also been particularly impressed with the high quality of customer service behind them."
--Scott Harrison, International Projects Manager, Borland International


"Anybody doing site design has to check out HTML PowerTools. This collection of 8 tools is a must have for site designers at all skill levels."
--Dave Central

Selected as a Simply The Best shareware product.
--SimplyTheBest.com Shareware
Not only is your software as good as it gets but so is your support. You people are really first class, a rare breed.
--Stan Kurzet
The best HTML validator I've seen is HTML Power Tools by Talicom. The program works wonderfully, it's easy to use, and the company has actual people who promptly read and answer e-mail. This is the way products should be sold online, and it's refreshing to find a site that offers responsive customer service.
--Peter G. Miller, Webmaster, Realty Times
"Your software has proved invaluable many times over the last few months. I find it hard to believe that ALL webmasters are not using it!"
--Dave Sneed, Web Applications Specialist
"While working for a Microsoft subcontractor on many HTML projects, I used many tools for authoring and validating HTML. I found that HTML PowerTools were an absolute necessity. An outstanding suite of tools! No one serious about producing quality HTML should be without them."
--G. Scott Tomlin, Web Designer/Owner, Frontier Media
"We're talkin' super useful here, a Tool that we may find it hard to live without. And what is this amazing piece of software? HTML PowerTools, that's what! This will really do wonders for making sure your HTML codes are correct... In this little package, you'll find eight kick-ass tools to help keep your HTML on the straight and narrow... Go grab the HTML power tools and impose some order in your life."
--Cool Tool of the Day Page
"Keep your website in squeaky clean condition with the least possible effort -- thanks to Talicom's HTML PowerTools. This collection of HTML utilities ... is absolutely indispensable for maintaining complex sites!"
--Cyberworld Radio Show Host, Scott James
"I'd be lost without my PowerTools. Although I use the PowerAnalyzer the most, the PowerSearch, Rulebase Editor, Meta Manager and Image Scanner rank at the top of my Web utilities list. 400 pages and 1600 unique links cannot be managed without a good set of tools, and Talicom has the right stuff."
--Guy Cousineau, Web Designer


For an extremely nifty one-two punch why not try a combo of your favorite text editor and the HTML PowerTools ... It's an awesome HTML tool, they're like a Swiss army knife of HTML utilities.
--The Slaughterhouse, July 17, 1997
I would just like to take a moment to praise you for your wonderful product! ... I am thoroughly impressed. The beauty of this tool is that it doesn't take away from actually writing the HTML ... Thank you for your wonderful work!
--Donnie Garvich


"HTML PowerAnalyzer has proven at Eureka to be more accurate than some of the HTML certifying pages on the web that use Perl scripts. We ran some of our more advanced and complicated HTML scripts through these tools and they flagged some mistakes that we did not catch with three persons having independently worked on these files. That alone justifies the effort to go and download HTML PowerTools... HTML PowerSearch is really powerful... HTML Image Scanner is great and should be used by ALL HTML builders/programmers. I tried it out on one of our HUGE Animation JavaScript files and it worked like a charm. Highly recommended."
--Hans Schrader, SYSOP of the Eureka/HTMLib discussion board
I'd like to thank you for your excellent set of tools. We manage websites with up to 300 pages, and thousands of links, and with your tools we now can make adjustments even to whole sites in minutes, when it used to take 1-2 days of tedious work. Now we just write in the change, and let the PC do all the work, while we have a cup of coffee. Investing in your tools has already saved us an serious amount of time and money. And the best part is: every single tool has worked like a dream, without ANY kind of problem. Exept maybe the general increase in coffee consumption!
--Christian Wikstrom, Design Master, Highway Graphics Inc.
What a knockout program. We're in the process of a company name and address change on more than 100 HTML pages. With HTML Power Tools it took me less than 3 minutes to make each of the block text changes! That would have taken HOURS manually. Also checked all of the TAGS in the same 100 pages and it found and corrected dozens of code writing errors in less than 2 minutes! Again saving me a ton of time! Thanks for the great job!
--In-house Webmaster for Supreme Audio
PowerTools is terrific; actually I've been looking at it for some time, but there were some drawbacks for a site the size of mine that made it difficult to use. These have all been overcome -- the performance is excellent and tools themselves invaluable!
--Robert Crooks
"A great set of utilities - they have saved me time and effort in managing the 230+ pages I look after."
--Peter Ware, professional Website designer
Your tools are nothing short of a GOD SEND, absolutely fantastic! I have a major project we just finished for the US department of Agriculture. Your product made what would have been hours of tedious work a minor blip! This product is the best! It solves so many problems. I am a convert to VALIDATION in a big way, don't know how I ever survived without this tool in my bag of HTML tricks. Thanks so much.
--Dan Singleton, Web Designer and HTML teacher
If you're a web developer, you need HTML PowerTools. I have recently discovered the power of these useful utilities, whether you have one page or a thousand, you'll find these tools handy!
--Gordon F. LaGrow, Webmaster
I have just started my own web site with my own personal URL and your program has helped to find errors I didn't even know were there. If it were not for your very excellent program, I would have a very messed up site. Thanks and keep up the good work.
--Marty Clayton
I have never used a piece of software that was so useful and intuitive. What an excellent job you guys have done with this program. Congratulations on a superior piece of work!
--Tim Hanko
Your program has been worth many times its modest cost and I thank you for providing it. I have recommended it to several other HTML developers and I believe all have registered it.
--Mike Richter, CD-ROM Developer
This is cool software! Invaluable!
--Jonathan Day, Webmaster
"HTML PowerAnalyzer is a superb product - thank you!"
--Chris Allen, professional Website designer
"I just wanted to tell you how fantastic Power Tools is. I found your software while surfing through the ZDnet site and decided to download the trial. What a godsend! Thanks again for a fantastic product!"
--Sharon Adams, Website maintenance
"I have found your Power Analyzer to be very powerful tool. It found several HTML bugs that I never would of caught by hand. I would highly recommend it to anyone who edits HTML directly!"
--Carl D. Prothman, CCP, Webmaster New Home Trends
"I really expect your programs to attract the attention of major reviewers... They are perfect for HTML novices (like me) to use to improve our page output."
--Jean Saffell, amateur Website designer
"This is a wonderful product that you have. I have found it to be a great help ... I have well over 200 pages on our site, and thanks to PowerAnalyzer, I have zero HTML errors."
--John Gann, Webmaster
"Thanks for the great products and excellent service.
--John Babich
First, Let me congratulate you on creating a piece of HTML editing software that works well. I am an experienced web site designer and have my own web crafting company. Your product makes my job a lot easier... Thank you for making such an impressive piece of software.
--Elijah Underwood, professional Web designer
"Thanks for a very good program - a must for good HTML-programming!"
--Arne Spangtorp
"I LOVE YOUR SOFTWARE!!!!"
--Alexa Robinson, Professional Webmaster
"I downloaded your HTML Power Analysis program. Wow, it helped me find and tidy up LOTS of errors. I'd tried a couple validators. They would report stacks of errors, but I couldn't figure out what they were complaining about. I could figure what yours was griping about."
--Tom Ruby
I appreciate your products tremendously!
--Philip S. Parker
"The tools that your company offer appear to be just the 'missing-links' we have been looking for. Keep up the good work!!"
--Dyrek Litzenberger
"Great products!"
--Eric Lovgren
"THAT is great service! Great tools from a great company. Thanks a lot!"
---Mike, Webmaster
"Without the help of your programs, I would have taken a whole lot longer to learn and develop my home page! Hope you guys can come up with more of this stuff. They sure helped me find and wipe out many of my careless programming errors. Thanks a million, guys!"
--Kenneth Wong
"I appreciate both the quality of your products and your service to customers."
--Bruce Ronald Fiene, Information Technology and Consulting, Inc.
"Looks like you got a program that will help a lot of people who come to my site."
--Bruce A. Beard, Webmaster
"These are some great products that you offer!"
--Laura Haigley
This is without doubt the most useful software I have ever had the pleasure to use. I will be recommending it to LOTS of users...I REALLY love this product and our company does lots of very large WEB SITES!
--Joan McKinney Singleton, Webmaster
Check out this really nice illustrated children's book explaining to the siblings of a new baby with Down Syndrome: Our New Special Baby

Register your copy today for only $29.95 and save 67%!
(Click here for site license pricing.)
For more information, please click:
[Home Page] [Product Descriptions] [Download Products] [Prices and Ordering] [Frequently Asked Questions] [Support] [Download Rulebases] [Contact Us]