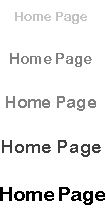 4 Stars: "HTML PowerTools is a nice-looking collection of easy-to-use, time-saving Web authoring helpers."
--ZD Net Software Library reviews



"The best of the bunch is HTML PowerTools"
--PC Computing Magazine review



"Killer Download: Save Time and Effort with HTML PowerTools"
--Jesse Berst's ZDNet AnchorDesk



"HTML PowerAnalyzer is a smart choice."
--PC Magazine Online



Awarded Cool Tool of the Day



"...check out the HTML Meta Manager. This [is a] valuable Windows-based utility..."
--PC Week Online



HTML PowerTools are recommended by Web Hosting Search.



for Windows
The Swiss
army knife
of
HTML tools!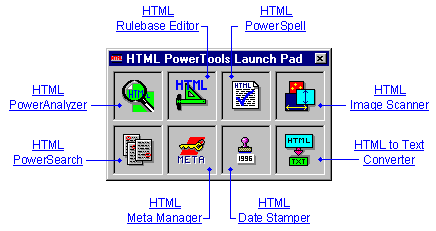 Click here now to download the
free, fully-functional 30-day Test Drive!


We are proud to report that HTML developers from these organizations are HTML PowerTools users: American Express, Amoco, Andersen Consulting, Autodesk, Bay Networks, Boeing, Bear Stearns Co., Borland, Cardinal Health Systems, Compaq, Computer Associates, DEC Digital Equipment Corp., Epson, Ericsson, Fujitsu, Hewlett Packard, IBM, Intel, KLM, LanOptics, The L.A. Times, Microsoft, NASA, Northern Telecom, Novell, Oracle, Pacific Gas & Electric, RJ Reynolds Tobacco Co., Shiva, United Nations, Universal Tax Systems, US Air Force, US Environmental Protection Agency, and Viacom.

HTML PowerTools are an invaluable suite of HTML development tools that allow the HTML developer

professional and beginner alike

to easily create better HTML pages in less time. All tools are available in both Windows 3.x (16-bit) and Windows 95/98/NT/2000/ME/XP (32-bit) versions.
With them, you can:
Ensure that your HTML is error-free for any or all browsers!
Customize the included browser definitions (HTML 4, Explorer 5, Navigator 4, and more)!
Verify that all your links are valid!
Weed out all obsolete files from your Website directories
Eradicate spelling errors!
Make sure that the major search engines correctly list your Website!
Search & Replace through an entire Website with unique HTML-aware facilities!
Automatically insert height, width, and ALT for every IMG tag!
Automatically insert a last modified date to every page in your Website!
Convert any number of Web pages to formatted text files with one click!
And much, much more...

For more information, please click:


HTML PowerTools are developed and marketed by Talicom. This site is copyright © 2014, Talicom. Talicom is a registered trademark and HTML PowerTools is a trademark of Talicom. Other trademarks are the property of their respective owners.
This Website was last updated on 1/1/2014.